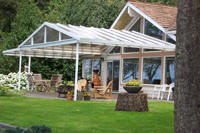 Acrylic Top Patio Covers
Our Patio Covers are constructed using corrosive resistant extruded aluminum and double-skinned acrylic sheets. Engineered to the highest quality of standards, our Patio Covers block harmful UV Rays, are hail resistant, and withstand heavy snowfall. You'll soon discover in virtually all aspects, there are few products that match it.
Our acrylic sheets are available in bronze, solar cool white, & heatstop white. Whether you are covering a patio, creating a carport, or covering a hot tub, we have a Patio Cover that is right for you.


T-Bar Roof System

Patio Cover Features:
Double skinned acrylic sheets in bronze, solar cool white, & heatstop white
Heavy duty, extruded structural aluminum T-bar
Resistant to wind, heat, hail, rain, & snow
Maintenance Free
For more information on this or any of our other products or services please contact us .