Golden Gate Enterprises, Inc. specializes in deck construction and repair. We are experts in proper material selection, and structural deck design . In most Bay Area communities, decks over 30″ tall need a permit, and the associated plans for construction. Deck construction has become more complex and demanding over the last five years. Building code standards have been substantially upgraded, and local zoning requirements have become stricter. When it comes to deck building, we can handle the entire process for you. Deck design, engineered structural plans, and complete construction.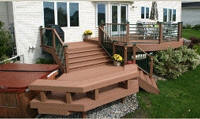 The structural parts of a deck are typically made of redwood or pressure treated framing. The real choice as a consumer is your selection of decking material and railings. Deck surfaces are typically redwood, composites ( Trex, Timbertech, Weatherbest, etc.), or Ipe. Each of these materials has its own unique characteristics. We can assist you in selecting the best material for you application. Railings can be wood, aluminum-glass paneled, composite, or wrought iron. Safety, esthetics, and design issues all must be considered.
While there are many companies that can offer deck construction, few companies build decks with the amount of structural integrity (yes we overbuild), and added techniques to ensure maximum longevity and safety for your deck. Another major consideration is that deck construction typically involves a lot more than just framing a deck. We have an extensive background that includes waterproofing, stucco, electrical, plumbing, and structural repairs. Over 50% of deck jobs involve skills/trades outside the scope of a typical deck contractor. Look at our photos-from drilling, framing, structural connections, finish work, and site preparation, we can deliver with 100% confidence for your project. Our message- hire an expert for your deck project. Our customers tell us over and over- "Wow, we are glad we hired you guys!"
For more information on this or any of our other products or services please contact us .