Foundation Repair  Contractor  Structural Repairs Dry Rot Repairs  Foundation Earthquake Retrofits
Call 510-885-0197  To Get More Information On How We Can Help Fix Your Foundation Problems

Golden Gate Enterprises, Inc.  serving the entire San Francisco Bay Area for foundation repair services and full general contractor services.  We can provide plans, permits, and engineering.

If you detect signs of foundation settlement in your home, we will be happy to talk with you about our our foundation repair services.We can provide a foundation inspection to help determine possible issues. We can make recommendations based on our observations, and if necessary engage the services of an  independent engineer for a second opinion and specifications.
In the San Francisco Bay area, there are many causes of foundation problems.  Generally the older the home , the more potential problems that may exist.  Hillside homes are prone to slipping and settling.  Many older  Bay Area foundations are on brick footings, substandard concrete that is deteriorating, or perhaps never adequately designed. Soil conditions, drainage, and water leaks can all contribute to shifting/settling foundations.
A surprising number of "foundation" problems are caused by dry rot and water damage to the foundation framing  (sill plate, cripple walls, etc) , causing the house to sink. Golden Gate Enterprises specializes in foundation, structural, and dry rot repairs. We can provide permits, plans, and engineering as needed.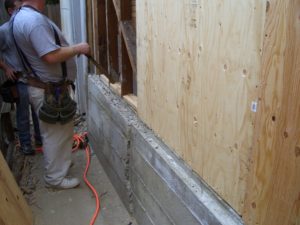 How Can You Tell If You Have Foundation Problems ?
Early signs include cracks in walls, sheet rock, doors that don't close properly, floors that are not level, cracked tile, cracks in foundation walls, openings around doors/widows, and siding/trim that is coming apart. While these are all signs of movement and settling , if it contuse too much or too long it can cause structural damage to your home. It's important to fix these problems as soon as they are recognized.
 So What Causes Foundation Problems ?
While there are many possible reasons, the list include incorrect site ground soil preparation during the original construction. If fill was used, perhaps it was not compacted properly. This is typical of spread footing foundations that depend on the integrity of the soil they rest on. Another contributing factor is the moisture content of the soil. Soil does expand and contract. For example, during heavy rains, soil swells causing uplift on the foundation…and of course the opposite occurs when it dries out.
Other areas of concern are the natural flow of water around the foundation. Perhaps there is ground water that is flowing after rains, due to underground streams, and poor surface drainage. Drainage from the roof downspouts and gutters is another frequent cause of foundation movement. Leaks in the plumbing system that go on for long periods of time undetected can cause foundation settling.  Planting too  much  vegetation around the foundation cause significant changes in soil hydration..and caused the earth to move.
Putting it all together…soil issues, water management, drainage, improper original foundation construction, and poor site conditions all can contribute to cause foundation problems.  In most cases, there are remedies.
Foundation Jacks and Support Systems
Typical foundations have floor joists as well as mid span supporting beams. Frequently we see the beams that the floor joists rest on are sagging due to improper construction, or the posts that support the beams have settled. Typically this is caused by soil related problems, incorrect spacing of posts/beams,  or overloading the floor system. While there are many reasons that cause sagging floors, the good news is that frequently the answer is installing foundation jacks to properly support the beams.
In addition to the foundation jacks, piers may need to be reset, and proper structural connections between post and beams.  Soil may need to be compacted, engineer fill installed, as well as other measures.  The pier jacks are manufactured out of steel, can be adjusted, and are a great solution for many sagging floor problems.
Please contact Golden Gate Enteprises Inc., your San Francisco Bay Area General Contractor that specializes is seismic earthquake retrofits, and foundation repairs.
 Pictures from Golden Gate Enteprises  Job Sites. We handle all types of foundation repairs and replacements.
So when you have foundation problems, call the bay area foundation repair company for a free consultation today.  510-909-8552