Slope, Ponding, & Puddling
Since Duradek membranes are predominantly applied directly to structural substrates like plywood sheathing or concrete, then the structural roof deck must be designed and built to ensure positive drainage.
Duradek's recommendation for a nominal deck slope is ¼" in 12" or 2%, which is required by some Building Codes and Roofing Associations. The roof designer, to ensure positive drainage, should consider the following: building settlement, frame shrinkage, drain locations, roof layout, overlayment weight (for Plazadek projects), structural deflection (L/720 for Tiledek projects).
Lower slopes can be considered, on existing structural roof assemblies, if adequate slope is provided to allow for positive drainage of the roof/deck area. For lower sloped decks, the membrane should be installed in the direction of the slope so as the membrane seams do not impede water flow.
On all decks, Duradek recommends the membrane be cleaned four times per year, more often if acid rain or airborne pollution is a problem in the project's area.
What is considered "ponded water" or "inadequate slope"?
Duradek defers to Industry and Government standards when it comes to slope and ponded water clarification. The National Roofing Contractor Association (NRCA) Roofing and Waterproofing manual defines ponding water as "the excessive accumulation of water at low-lying areas on the roof." To avoid ponding water, NRCA recommends that all roofing systems be designed and built to ensure positive drainage.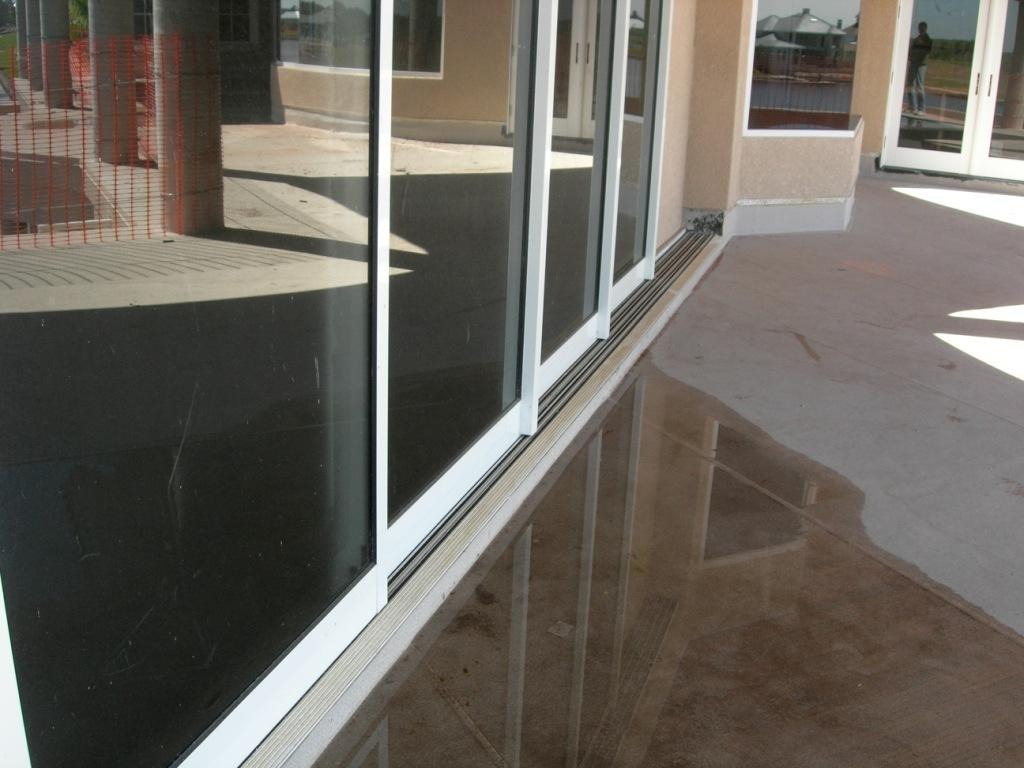 Can I install Duradek on my own?
No. Due to the nature of the product, Duradek can only be installed by our fully-trained applicators. They are trained in waterproofing techniques and building codes to ensure you are getting the best quality installation available. For this reason we are able to offer the industry's best warranty.
How do you clean Duradek?
It is best to clean your Duradek surface at least 4 times a year to maintain its appearance. For regular cleaning, use hot water with a mild soap and scrub it with a soft bristle brush. We offer a specially-formulated Duradek cleaner that should generally be used for your spring cleaning. The 1-litre cleaner is free for customers of new installations, and replacement bottles can be purchased at a low-cost. For more difficult stains you can dilute some household cleaner. Be sure not to let any chemicals sit on the vinyl surface for a long period of time and rinse well with fresh water.
Can I put a deicer on Duradek in the winter?
Yes. Rock Salt, Kitty Litter and various other snow-melting chemicals can be used on your Duradek surface. We do caution, however, that you clean the surface thoroughly with soap and water and flushed clear prior to letting the heat of the spring sun 'bake' any chemical into the surface.
How much does Duradek cost?
There are a number of different thicknesses, patterns and textures to chose from. You should contact Golden Gate Enterprises for an estimate on your deck. Due to factors like plywood condition, exterior wall coverings, doorways, and existing railings, it is not possible for us to provide a "ball park" figure over the phone. We will arrange to visit with you at a convenient time, measure and inspect your existing application, and provide a written quote free-of-charge.
How long will my Duradek deck last?
With proper care and cleaning your Duradek deck could last up to 15-20 years. We offer a 5-year warranty on the waterproofing of our products, and a 2-year warranty on the appearance. Contact us for more details regarding warranties.
For more information on this or any of our other products or services please contact us .