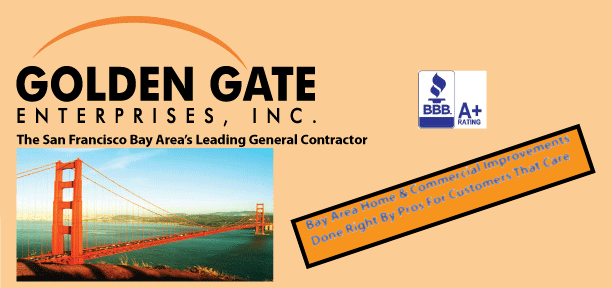 Bay Area General Contractor All San Francisco Areas
(Marin, San Francisco, Alameda, Contra Costa, San Mateo, Santa Clara, Solano)
BAY AREA GENERAL CONTRACTOR : Licensed General Contractor, Building Contractor, Remodeling Contractor, Home Improvement Contractor, Renovation Contractor,  Kitchens, Baths, Dry Rot Repair, Decks, Glass Railings, Waterproof Decks, Stucco
Located In Castro Valley California , Serving the San Francisco Bay Area For General Contractor Construction Bay Area Contractor Services
Golden Gate Enterprises, Inc. is a bay area specialty general contractor providing unique, high quality, professional  contractor services.  As a licensed General Contractor we can provide a complete set of services that includes plans, engineering, permits, and construction. Our goal is to provide one stop shopping to make your life easier. We provide both home improvements as well as commercial improvements. When looking for a bay area contractor, we are a smart choice.
While there are many contractors to choose from, it's hard finding a quality company that gets things done properly. San Francisco General Contractors, dry rot repair contractor, or waterproof deck contractor, we are your Bay Area Contractor of choice. You will find the owner personally involved in every project. More importantly, you will enjoy the experience of  journeyman level professionals that really know what they are doing. We are a home improvement contractor that lives by our reputation. Our staff has over 200 years of combined journeyman level experience.  If you want it done properly without experiencing the headaches and hassles that so many people go through with contractors, then hire us. We are fully licensed, bonded , and insured (liability and workers compensation). We are A+ rated by the Better Business Bureau !
We Provide Full General Contracting services in all areas of the San Francisco Bay Area. This includes San Mateo County, Santa Clara County, Alameda County, Contra Costa County, Marin County, Santa Clara County, Solano County, Napa County, Sonoma County, and San Francisco County. We do travel further for specific jobs. When looking for a home improvement contractor  home repair contractor to do your addition, remodel, bathroom remodel, kitchen remodel, stucco repair work, deck construction, landscaping, paver patios, painting, and waterproofing work, then choose a local top rated contractor  (
A+ Rated By the Better Business Bureau

). We are California State License Board licensed  ( CSLB ) , and fully insured.
As a fully licensed general contractor, we handle all types of jobs from start to finish. Many customers hire us because we are a one stop company where you can get it all done, with one experienced contractor. We perform over 90% of our work in house, only using subcontractors for very specialized items when needed.  And when we do use subs, they have been our working partners for years.  Here are the major areas that may be of interest to you:
Additions & Remodels

Bathroom Remodels

Kitchen Remodels

Doors and Windows

Patio Sun Rooms

Painting & Waterproofing

Glass Railing Systems

Plans, Permits, Engineering
We provide professional general contracting services in all San Francisco Area counties. From plans, permits, engineering, and full construction services, we can handle your project.  Bay Area Contractor is our web site address and our company name is Golden Gate Enterprises, Inc. We have hundreds of San Francisco General Contractor Bay Area videos on line for you to watch. We hope to see you soon ! Golden Gate Enterprises your Bay Area Contractor !
Call  510-909-8552 Today For Questions and a Free Estimate
San Francisco Bay Area General Contractor
Home Improvements Made Easy
Bay Area General Building Home Improvement Contractor

,
Click here to submit your review.
---
---
Golden Gate Enterprises Review Great Job
Jun 24, 2014
by
Jennifer W.
I agree with Michael. Paul Gordon was a pleasure to work with. The entire crew was professional and polite. They did a great job on our kitchen remodel. Thanks guys!!

---
Golden Gate Enterprises Review Best General Contractor
Jun 24, 2014
by
Michael L.
Best general contractor I have had the pleasure of doing business with in the entire Bay Area. Professional and curtious, prompt and polite, highly reccomended!

---
Golden Gate Enterprises Review "Any Day of The Week"
May 24, 2014
by
Sienna E. Castro Valley
Best contractor experience I have thus so encountered in the Bay Area. Not only professional grade work, but just as importantly offering excellent customer service. Their knowledge and expertise of general contracting is undeniable, and I would recommenced their work and service any day of the week.

---
Golden Gate Enterprises Review TRUSTED CONTRACTOR
Apr 19, 2014
by
Cindy H. Livermore
I have worked with Golden Gate Enterprises a couple of times now. One for my bathroom remodel and the other for my new backyard hot tub decking project. All I can say is "It is nice to have a TRUSTED, PROFESSIONAL contractor that gets the job done as projected. Also they show up too!! HAPPY CUSTOMER Livermore, CA

---
Golden Gate Enterprises Review Highly Recommended
Mar 15, 2014
by
Adam B. Brisbane
We had an unfortunate discovery of some damage to our home in the fall of 2013 when we were trying to sell the house. There was dry rot / termite damage in an enclosed area under our front stairs - we were not aware of the damage, so we were quite surprised when it was called out. Given the age of the house and the complexity of the stair architecture, we were quite worried about the damage and how it would be repaired with the least impact. We talked to several folks and finally settled on Golden Gate Enterprises. Paul and Sal came out several times to review the damage report, investigate the situation from their own perspective, and to start to formulate a repair plan. It was very clear upon first meeting that they knew what they were doing and that they had done this type of work many times before.

We had the typical fun negotiating the contract, pricing, scope of work - but that is to be expected on a project like this. This was the most challenging part of the process as the project was expensive. You should know that Golden Gate is not your bargain basement, low rent contractor. These guys are specialists. You will pay a little bit of a premium - a fair premium, but a premium nonetheless - to have them work on your project. They were not the lowest priced bid for our project. We chose them because we felt that they truly understood our issues and they knew how to fix them the right way. I am a big believer in doing things the right way rather than have to go back and fix it several times. So, you might pay a bit more - but know that these are the right people to help you - especially if you have a hard or complex problem. Whatever extra we paid was well worth it.

As it turned out, the damage report we received did not actually identify all the damage areas. The project got quite a big bigger as Paul, Sal, and crew realized that there was a lot more structural damage than originally thought. They were outstanding in communicating with us throughout the project - showing us what was going on, why, and how to fix it. They provided truly expert advice.

We survived the demo phase and now fully identified the repairs that were needed. Sal Rodriguez really went to work at this point. Sal is an amazing guy. He is able to crawl into the smallest places and get a handle on what is going on. He and Paul devised a plan to provide structure to my stairs and save them from being ripped out. He went "old school" and did the most phenomenal framing job that I've ever seen. All of my neighbors stopped to comment on the quality of the construction, and we passed multiple inspections with no issues. The inspectors even commented that it was some of the best work they could ever remember being done in town. On top of that Sal made friends with all the neighbors who stopped by - which was great considering that we had noise, dust, debris, etc. for 5 months. It would have been very easy to upset all the neighbors and the exact opposite happened.

Paul is an expert at dealing with the inspectors, building code, licensing and all the legal aspects of doing the work. This came in super handy as some of the project required finesse in this area.

The house looks great - better than it did before we started - and now it is completely structurally sound.

I would highly recommend working with Golden Gate on your project. Give Paul a call, he will earn your business and get the work done as promised. Ask for Sal to be your construction crew lead - he is the best!

Good Luck! If you're reading this post, you probably need a little.

---
Golden Gate Enterprises Review HIGHLY RECOMMENDED
Feb 14, 2014
by
Mohyung A. Alameda
I want to highly recommend Golden Gate general contractor. When we remodeled our kitchen, we had a nightmare of a contractor so we knew we had to be extremely thorough when hiring for our large remodel. We interviewed several contractors and had quite high standards. We were redoing two bathrooms and adding a master suite/laundry room over our existing craftsman home - all while living here with two kids and a dog. We found Golden Gate contractor because they had just built an addition to our neighbors home and at the end of the project, she said she would highly recommend them - and I can say the same thing. We did our remodel over the course of a year (we did "two phases" so we could live through it all). I would hire them all over again. You won't be disappointed!!!

---
Golden Gate Enterprise Review Outstanding Work
Feb 07, 2014
by
Alex A. Burlingame
Paul and his workers Sal Rodriguez and painter Joseph Lopez performed outstanding work to address large scale dry rot and termite damage in two exterior walls, and the crawl space. Specifically, they removed stucco siding, re-framed a large amount of two walls and cripple walls, then re-stuccoed and re-painted the exterior. The work included the addition of engineering details to prevent future occurrences. They also performed an earthquake retrofit and installed a crawl space vapor barrier. Most importantly, they spent time to determine and address the root cause of the damage. Due to several factors, the project was delayed, but the high quality of the work never varied. Also, despite the extra time spent on the job, and several scope changes, the cost of the project remained reasonable and predictable.

---
Golden Gate Enterprises Review Extensive Knowledge
Nov 21, 2013
by
Carl A. San Pablo
I'm a small builder in the East Bay about to construct a personal house for myself that will have a rooftop terrace. Although I have adequate experience myself in many areas of construction my structural engineer implored me to seek out a water-proofing expert to design this deck area. I did my research and found Paul Gordon. He was gracious enough to meet with me knowing I only wanted consultation. I offered to pay him for his time but he gave me very valuable information about the deck design and other important connections that I was not aware of at no cost. His knowledge is extensive and I will definitely use him at construction time.
Carl Adams

---
Golden Gate Enterprises Review Highly Recommended
Sep 19, 2013
by
Stephen H. Castro Valley
About 3 months I had called Paul who is the owner and contractor of Golden Gate. I had issues with some leaks in my house, and within a couple days of my phone call with him he came out to give me a free estimate. I decided to go with Golden Gate Enterprises because I was guaranteed the job was going to be done properly to eliminate any future problems. Paul and his crew were able to deliver! They found the source of the leak and replaced all the dry rot wood that was spreading throughout the house. Paul was great with assisting and keep me up to date with the repairs. Highly recommended to anyone who wants a trustworthy contractor that will guarantee the job will get done properly.

---
Golden Gate Enterprises Review THANKS GUYS !
Jul 15, 2013
by
Allison L. Fremont
We contacted several home remodeling contractors in the Bay Area to get estimates and decided to go with Gold Gate Enterprises. The owner Paul Gordon was really helpful in giving us kitchen and bathroom remodeling ideas which made it a bit easier for us. The reason I am giving them 5 stars is because of their level of work and attention to detail. If you look at some of their videos you will see my home and other examples of what they do. When they were remodeling our bathroom I noticed the guy doing the tile removing an entire section because it was not set to his standard. That is the kind of person I want working on my home! Thanks guys! I really appreciate all your hard work.

---