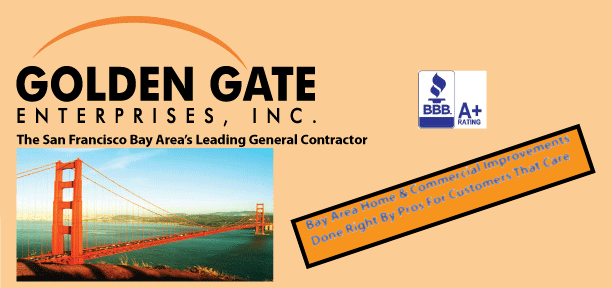 Bay Area General Contractor All San Francisco Areas
(Marin, San Francisco, Alameda, Contra Costa, San Mateo, Santa Clara, Solano)
BAY AREA GENERAL CONTRACTOR : Licensed General Contractor, Building Contractor, Remodeling Contractor, Home Improvement Contractor, Renovation Contractor,  Kitchens, Baths, Dry Rot Repair, Decks, Glass Railings, Waterproof Decks, Stucco
Located In Castro Valley California , Serving the San Francisco Bay Area For General Contractor Construction Bay Area Contractor Services
Golden Gate Enterprises, Inc. is a bay area specialty general contractor providing unique, high quality, professional  contractor services.  As a licensed General Contractor we can provide a complete set of services that includes plans, engineering, permits, and construction. Our goal is to provide one stop shopping to make your life easier. We provide both home improvements as well as commercial improvements. When looking for a bay area contractor, we are a smart choice.
While there are many contractors to choose from, it's hard finding a quality company that gets things done properly. San Francisco General Contractors, dry rot repair contractor, or waterproof deck contractor, we are your Bay Area Contractor of choice. You will find the owner personally involved in every project. More importantly, you will enjoy the experience of  journeyman level professionals that really know what they are doing. We are a home improvement contractor that lives by our reputation. Our staff has over 200 years of combined journeyman level experience.  If you want it done properly without experiencing the headaches and hassles that so many people go through with contractors, then hire us. We are fully licensed, bonded , and insured (liability and workers compensation). We are A+ rated by the Better Business Bureau !
We Provide Full General Contracting services in all areas of the San Francisco Bay Area. This includes San Mateo County, Santa Clara County, Alameda County, Contra Costa County, Marin County, Santa Clara County, Solano County, Napa County, Sonoma County, and San Francisco County. We do travel further for specific jobs. When looking for a home improvement contractor  home repair contractor to do your addition, remodel, bathroom remodel, kitchen remodel, stucco repair work, deck construction, landscaping, paver patios, painting, and waterproofing work, then choose a local top rated contractor  (
A+ Rated By the Better Business Bureau

). We are California State License Board licensed  ( CSLB ) , and fully insured.
As a fully licensed general contractor, we handle all types of jobs from start to finish. Many customers hire us because we are a one stop company where you can get it all done, with one experienced contractor. We perform over 90% of our work in house, only using subcontractors for very specialized items when needed.  And when we do use subs, they have been our working partners for years.  Here are the major areas that may be of interest to you:
Additions & Remodels

Bathroom Remodels

Kitchen Remodels

Doors and Windows

Patio Sun Rooms

Painting & Waterproofing

Glass Railing Systems

Plans, Permits, Engineering
We provide professional general contracting services in all San Francisco Area counties. From plans, permits, engineering, and full construction services, we can handle your project.  Bay Area Contractor is our web site address and our company name is Golden Gate Enterprises, Inc. We have hundreds of San Francisco General Contractor Bay Area videos on line for you to watch. We hope to see you soon ! Golden Gate Enterprises your Bay Area Contractor !
Call  510-909-8552 Today For Questions and a Free Estimate
San Francisco Bay Area General Contractor
Home Improvements Made Easy
Bay Area General Building Home Improvement Contractor

,
Click here to submit your review.
---
---
Hire These Guys !
Jul 16, 2012
by
Terry and Joan
Golden Gate did a dry rot repair job for us. Very good guys. Clean, neat, professional. Did what they said they would do and more, Knew what they were doing. It's hard to find reliable people that know what they are doing..we found them with Golden Gate.

---
Great Company and Contractor
Was asked to write a review for the company and I am happy to do so. We had a deck and back yard project done by Paul and his guys . They are creative, go the extra mile, and are very professional. They were a bit more expensive than other bids we had, but we felt much more comfortable with Paul and his experience..and now that the job is done we are very glad they did it. We would recommend them, and plan to do a remodel project with them next summer.

---
Very Happy
Golden Gate did a dry rot repair for us about 6 months ago. Our entire back wall had to be rebuilt, New door, windows, framing, stucco, foundation fix, electrical update. We ended up do a full house electrical upgrade, and a new roof with Paul also. Very good contractor. We interviewed 3 contractors for our job an selected Paul and his crew. They are very experienced, care about the work they do, and are good guys to have working around your house. Yes I would recommend them. Thanks Paul and team.

---